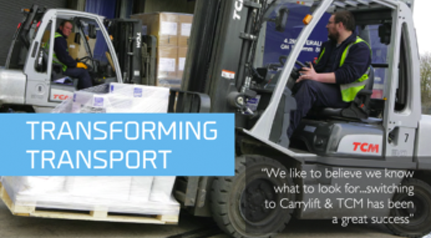 BOWKER "TRANSFORMING TRANSPORT"
The Bowker Group is an international transport company with a long and distinguished history.
Tracing its roots back to 1919, it was there when the road transport industry first began.  The first overnight shipper of fruit between Liverpool Docks and Covenant Garden, and one of the first to operate between the UK, Holland and Belgium.  Today it operates over 150 vehicles and has over 40,000m' of warehousing.
Providing a comprehensive range of dedicated and shaped-user warehousing services, the business is based in Preston, Blackburn and Hull.  Bowker operate one of the region's largest and most modern fleets comprising of 44t tractors, 26t and 18t rigid vehicles which are equipped with 1500kg rated tail lifts, reversing cameras and proximity sensors.
Importance of Flexibility
The entire UK fleet is tracked by satellite which not only provides online visibility of the vehicles but also the facility to use the motorway camera network and matrix warning signs to proactively monitor traffic conditions and avoid any potential delays.
Balancing space availability with a high degree of site utilisation, the company, according to warehouse manager, Stuart Greenwood, is potentially 'one call away' from a customer requirement for 100k square feet.  "We're constantly receiving quotes and getting business in'" adds Stuart.  "The need for us to stay operationally ready is always there."  As if to prove the point, Stuart describes a recent situation.  "We had an enquiry on a Wednesday to move 200 tonnes of product for a customer the next morning at 7am.  A call to Carrylift resulted in a hire truck, in and working, by 8.30am on Thursday."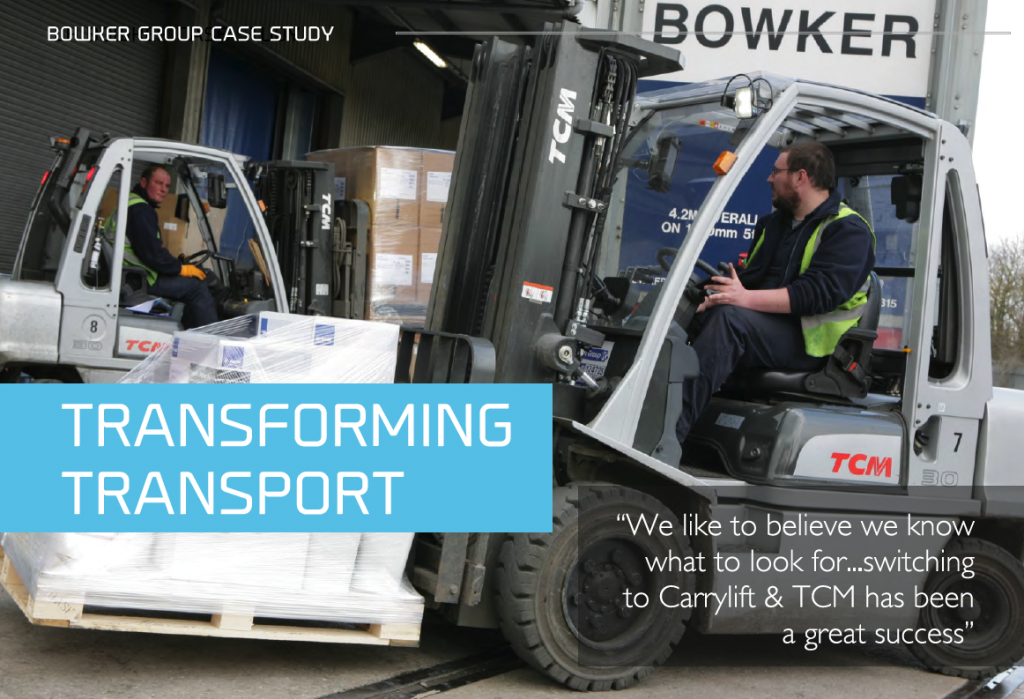 Transformation
Carrylift knows well that respect for Bowker's business makes it an influential partner.  A Carrylift source said "We value all our customers greatly, but we are particularly proud of the work we've done with Stuart and the team.  They understand their business well and are willing to invest in their expanding operation whilst keeping a keen eye on the costs.  We feel it makes our products and services an ideal choice."
The relationship with Carrylift began in 2005 when articulating forklift trucks were first brought in.  The trucks' ability to articulate, allows them to operate in a smaller aisle width, which in turn leads to greater storage density.  It's a move that proved transformational ("We've never been without them," adds Stuart), as the racking set up was changed to take advantage of the trucks' capabilities and make the most of the available space.
From then on, the opportunity for Carrylift to impress with their service back up and attention to detail paved the way for a new conversation on the rest of the forklift fleet.  "We are not the sort of company to mix and match suppliers," adds Stuart.  "All our lorries are Volvos, and we have to justify to our management team and ourselves if we want to make significant changes like this."  Perhaps that long history engenders a more cautious approach, but it certainly doesn't prompt sentimentality.
When the time arrived to replace the now ageing counterbalance fleet, the gauges on their onsite fuel bunkers allowed a real world diesel consumption test to be carried out.
Two new trucks were brought in for three months and an experiment began, the results of which even surprised Stuart.  "I've been here for over 20 years, beginning as a forklift operator, so we like to believe we know what to look for.  I like to involve the operators and get a feel for the comfort and convenience issues, it's the driver who is sat on it that has to be happy with it.  But with fuel prices spiralling upwards, it made sense to do a like-for-like test.  So every time we filled up, we recorded the hours and feel use."
Fuel Savings
The TCM used around three quarters (actually 77%) of the fuel the other used, enough to sway the purchase decision and save anywhere between £9 to £16 (depending on the fluctuating diesel costs) in fuel per shift on a four truck application.
"We operate in a large concrete yard, there's a lot of travelling and an on-site rail terminal.  Going over the rail lines takes its toll on the trucks.  Our experience is there are some trucks that just aren't cut out for this type of application, but the TCMs stand up well and we feel more than satisfied with having implemented the changes."  It helped that the TCM brand was not completely unfamiliar to Bowkers, having had one in the group from 1988 that's still operational today.  The focus on durability was also key, for as well as fuel consumption, reliability is also vital.  For customer business, it's essential to keep moving, but much of the work is also 'container stuffing' as part of the company's own transport operation.
This means that later in the day when most of the fleet comes back, a four hour window is allowed for overnight pallet exchange work (Bowker is a member of both Pall-Ex and Hazchem networks).  Up to a dozen trailers each night exit Preston alone, which provides another time constraint earlier in the day as orders need to be picked and ready to be out the door by 5pm.
Reliability
"A delay can hold up the whole operation," says Stuart, "if our vehicles are waiting to collect it has a knock-on effect.  If we are holding up our trucks because of problems with the forklifts, it would cause a real headache.  Reliability is a massive issue."
Safety too also score highly.  Blue warning spotlights help alert pedestrians to oncoming trucks whilst handling lots of chemicals means the Pyroban gas checkers and stainless steel clad forks are an essential add-on.  Others, such as a stretch wrap holder on the Aisle-Masters, provide a simple but effective fix and, as Stuart happily puts it, 'cheered up the operators no end.'
"You always get a mixed response when you make changes," concludes Stuart.  "My theory is if half the operators are in favour at the time, the remainder will get there.  Having. made the change to TCM and Carrylift, we're already able to say it's been a success.  It's down to the support we get from the Carrylift Team and thanks to the driver acceptance and track record to date, we know we are on to a winner."
Carrylift, Authorised TCM Distributor 
Proud Member of the CorpAcq Group of Companies