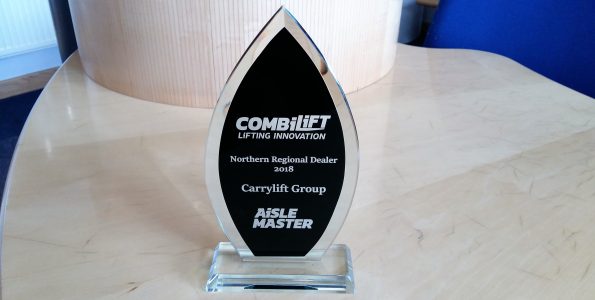 COMBILIFT 2018 NORTHERN REGIONAL DEALER OF THE YEAR
Carrylift Material Handling – Combilift 2018 Northern Regional Dealer of the year
During 2018 Carrylift Material Handling focused their efforts on providing solutions for customers old and new, with product profiles changing rapidly the need to think and act smarter to help clients be more efficient when moving and handling goods has never been more imperative.
With a very experienced and knowledgeable sales team, as a direct result of our efforts and successes, Carrylift achieved the accolade of being awarded Combilift's Northern Regional Dealer of the year for 2018.
Representatives from Combilift recently attended Carrylift's Head Office in Skelmersdale to present the award to Mark Brown, our Northern Sales Director. This focus will continue during 2019 as the Carrylift Group's determination to live up to their reputation as the UK's No 1 independent MHE provider is strengthened.
Carrylift's partner Combilift are the leading manufacturer of such specialised equipment and produce a wide range of specialist MHE that provide all kinds of solutions to our customer's needs. Carrylift will maximise efficiency, safety and profitability within a well-designed storage space.
Visit our website and see the Combilift range of equipment that will no doubt help your business move forward.