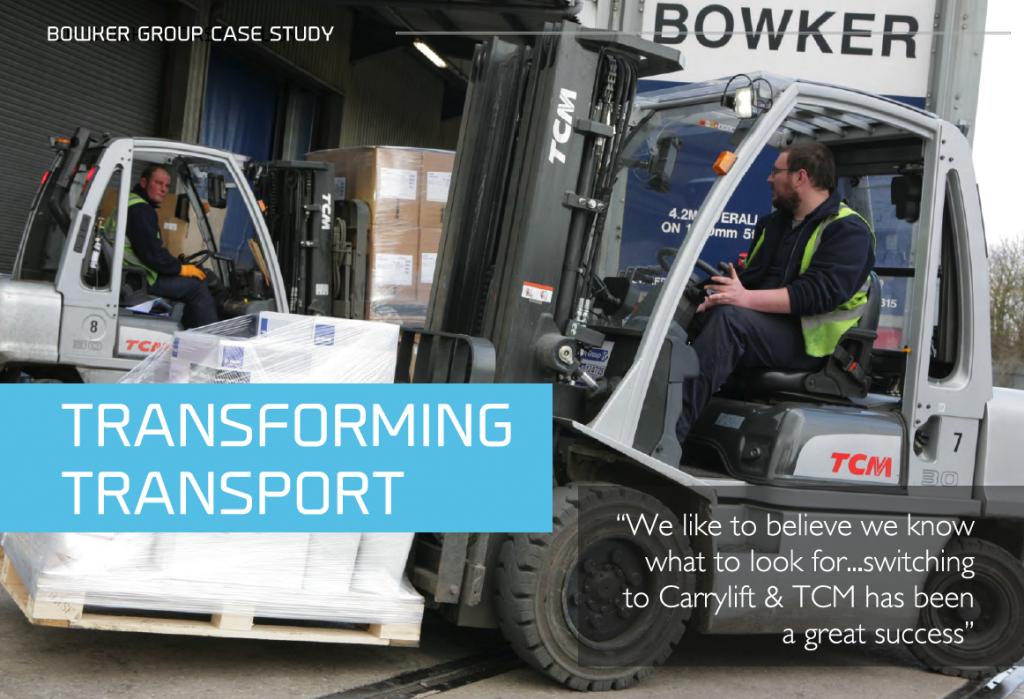 The Bowker Group is an international transport company with a long and distinguished history.
Tracing its roots back to 1919, it was there when the road transport industry first began. The first overnight shipper of fruit between Liverpool Docks and Covenant Garden, and one of the first to operate between the UK, Holland and Belgium. Today it operates over 150 vehicles and has over 40,000m' of warehousing.
Providing a comprehensive range of dedicated and shaped-user warehousing services, the business is based in Preston, Blackburn and Hull. Bowker operate one of the region's largest and most modern fleets comprising of 44t tractors, 26t and 18t rigid vehicles which are equipped with 1500kg rated tail lifts, reversing cameras and proximity sensors.
Importance of Flexibility
The entire UK fleet is tracked by satellite which not only provides online visibility of the vehicles but also the facility to use the motorway camera network and matrix warning signs to proactively monitor traffic conditions and avoid any potential delays.
Balancing space availability with a high degree of site utilisation, the company, according to warehouse manager, Stuart Greenwood, is potentially 'one call away' from a customer requirement for 100k square feet.  "We're constantly receiving quotes and getting business in'" adds Stuart.  "The need for us to stay operationally ready is always there."  As if to prove the point, Stuart describes a recent situation.  "We had an enquiry on a Wednesday to move 200 tonnes of product for a customer the next morning at 7am.  A call to Carrylift resulted in a hire truck, in and working, by 8.30am on Thursday."
Transformation
Carrylift knows well that respect for Bowker's business makes it an influential partner. A Carrylift source said "We value all our customers greatly, but we are particularly proud of the work we've done with Stuart and the team. They understand their business well and are willing to invest in their expanding operation whilst keeping a keen eye on the costs. We feel it makes our products and services an ideal choice."
The relationship with Carrylift began in 2005 when articulating forklift trucks were first brought in. The trucks' ability to articulate, allows them to operate in a smaller aisle width, which in turn leads to greater storage density. It's a move that proved transformational ("We've never been without them," adds Stuart), as the racking set up was changed to take advantage of the trucks' capabilities and make the most of the available space.
From then on, the opportunity for Carrylift to impress with their service back up and attention to detail paved the way for a new conversation on the rest of the forklift fleet. "We are not the sort of company to mix and match suppliers," adds Stuart. "All our lorries are Volvos, and we have to justify to our management team and ourselves if we want to make significant changes like this." Perhaps that long history engenders a more cautious approach, but it certainly doesn't prompt sentimentality.