Forklift Finder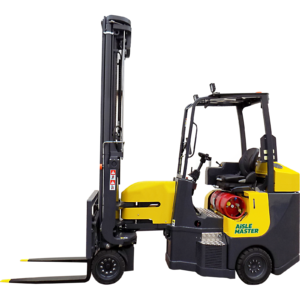 New Narrow Aisle Forklifts
Narrow aisle forklifts are perfect for navigating the tightly-designed aisle of modern warehouses. We offer a range of machines from electric vehicles like the AC Electric Aisle Master, the Aisle Master AME-OP and the Cold Store Aisle Master to LPG-powered trucks like the Aisle Master LPG. The lift capacity of these machines ranges from 1,500KG to 2,500KG. Each comes with its own benefits:
The AC Electric and the AME-OP boast enhanced performance levels that lead to increased pallet movements for greater productivity and improved acceleration.
The LPG has been acknowledged as the pioneer of LPG power in the articulated forklift sector and, with reduced emissions levels, is perfect for both indoor and outdoor applications.
The Cold Store Aisle Master is built with operator comfort in mind, with a fully enclosed, high visibility cab that keeps drivers warm and lessens the time needed for breaks which reduces downtime.
Accreditations