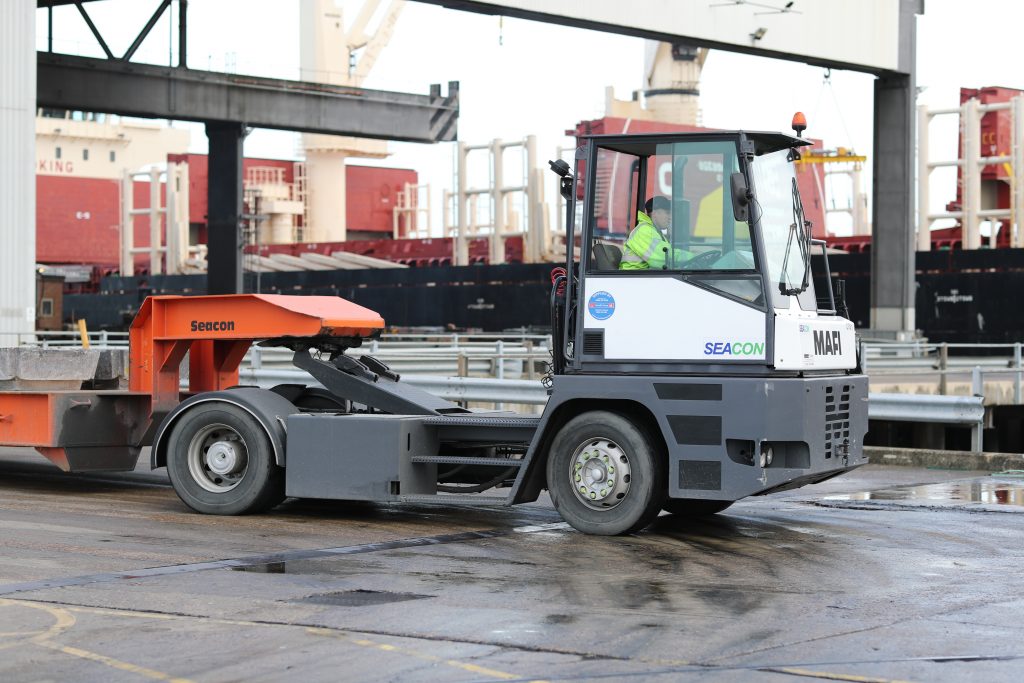 Carrylift prides itself on developing the right solution
for the right application. Some solutions often include a variety of different types of equipment from specialist manufacturers providing customers with increased levels of flexibility and productivity. This is just one of many reasons why our customers remain loyal to our business returning time and time again.
Founded in 1955, Seacon began life as Sea & Continental Waterways Transport Ltd, offering door-to-door transport solutions to its customers and has continued to do so for over half a century.
Today, the family-owned business prides itself in offering the complete discharging, warehousing, transportation and loading services for shippers of neo-bulk cargo such as Steel, Metals and Forest products.
Key equipment for their operation is the MAFI terminal tractors. Flexible enough to handle the varied requirements, the tractors also have the pulling power to handle metals, often steel and four tonnes lead blocks from Australia, or Russian-made ingots which are craned off the ships directly onto the trailer beds and destined for a nearby refinery.
"We have to be open-minded when looking for equipment for our customer, it has to be suitable for operation and if we provide refurbished equipment it has to be of a quality guaranteeing satisfaction and complete reliability," says Carrylift's Sean Roberts.
"It is not always easy to provide quality refurbished equipment, however on this occasion due to our expertise and knowledge of the market place we were able to source three units of quality that were fully refurbished to a very high standard. Our customer now has the use of three excellent trucks that do the job for the same cost of one new truck.
"We rely on our MAFI tractors every day," says Operations Manager, Mark Newman. "It's a system that has served us well for years, at least since we purchased the previous fleet from Carrylift 15 years ago. That equipment was so durable that we knew we wanted the same this time."
The MAFI's work around eight hours a day on a single shift operation between 7am and 5.30pm. Even as the demands on the company change, the MAFI fleet has remained fit for purpose.