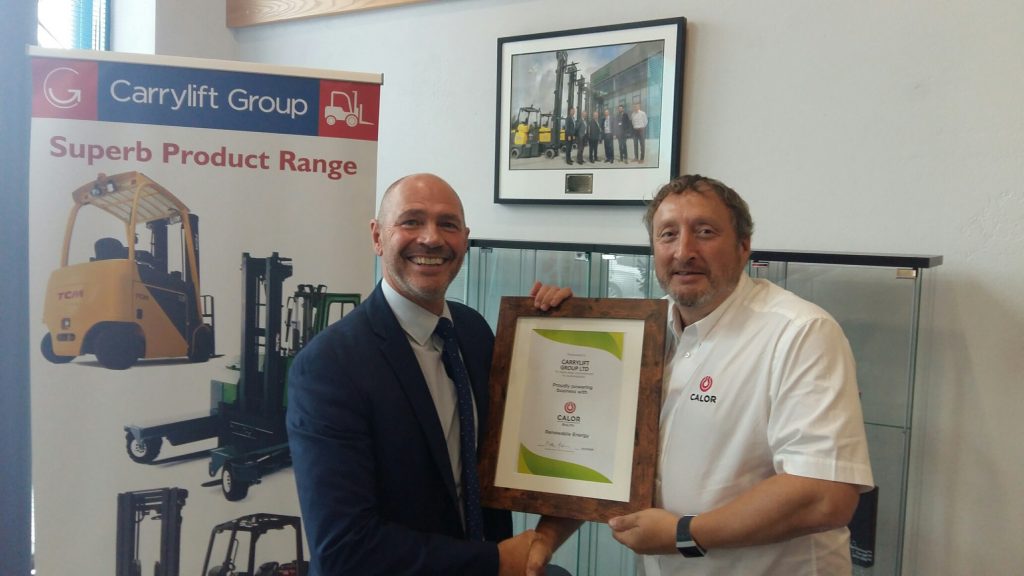 Carrylift in partnership with CALOR
There's no avoiding it, we must begin to make greener choices for our future
So let's talk Futuria Liquid Gas. It's renewable. It's sustainable. It's made from a blend of waste, residues and sustainably sourced materials, and is a step in the green direction.
Futuria Liquid Gas, a biopropane, is chemically identical to LPG and is compatible with all LPG products, but this gas has a greener twist. This means that Futuria Liquid Gas has absolutely no compromise on performance, so it's as energy efficient as LPG, whilst supporting us all to achieve a greener tomorrow.
It's a no brainer for Carrylift. With CALOR Futuria Liquid Gas, we can now do your bit for the environment, whilst providing reliable and sustainable energy.
Recently CALOR representatives joined us here at our Skelmersdale site to present Carrylift with their Green Gas Certificate, following the signing of the agreement for CALOR to provide Carrylift with Futuria Liquid Gas for our short term hire fleet moving forward. This certificate will be displayed in all of the Carrylift depots to highlight our commitment to this greener cause.
Carrylift also provided CALOR with a new TCM LPG forklift truck for their stand featured at the IMHX Exhibition that took place at the NEC, Birmingham 24th – 27th September 2019. The new truck was wrapped in green to emphasise the 'Green' concept to the visitors and will be a feature on CALOR's media campaign thereafter.